Let's jump right into it:
1. Stream of the Day
Only pitchers owned in less than 30% of ESPN leagues are eligible.

I hope you got your streaming fix in Monday's games, because there's not much cooking for Tuesday. Lots of widely owned pitchers are throwing, and the unowned guys that are scheduled to pitch are facing the top offenses.

Juan Nicasio
Grade: A-
I'm pretty surprised his ownership is low enough (28.1%) to qualify, but with today's lacking slate, I'm taking it and running with it. If he's taken in your league, today is not the day for streaming. If, however, he is available, he makes an excellent stream against a Braves team that is last in baseball in wOBA against RHP (...and against LHP - pitiful). Nicasio is a pretty decent pitcher to boot, with a 23.6% K rate on the year.
2. Must-watch Pitching Matchup
Max Scherzer (4-2, 4.15 ERA) vs Noah Syndergaard (3-2, 2.53)

Fresh off a historic 20-K performance, "Mad Max" squares off with "Thor" in precisely the type of pitching matchup that this feature was created for.

Chris Archer (2-4, 4.57 ERA) vs Marcus Stroman (4-0, 3.54)

Archer vs Stroman makes for a pretty epic undercard fight.
3. Vulture Saves Watch
From the Twitter account @VultureSaves (which I operate), updates on possibly unavailable closers and the setup men who could see save opportunities if those closers are rested. I assign football injury report style designations (probable, questionable, doubtful, out) to each closer as well as grades A-F to potential vultures.
I'll be updating as games happen. The below is current as of 10:25PM EST.
1.Kyle Barraclough, MIA
Grade: B+
AJ Ramos and David Phelps have both pitched three days in a row and are both doubtful. Barraclough has pitched back to back, so he could be unavailable as well, but he's probable.
2.Bryan Morris, MIA
Grade: C-
See above. Ramos and Phelps are doubtful, Barraclough is probable.
4. My GIF of the Day Vote
The site pitcherlist.com has a daily feature with the best pitching GIFs from the previous day, and they include a poll to find the GIF of the Day. Just for fun, I'll let you know what I voted for.
http://www.pitcherlist.com/blog/gifs-of-the-night/rich-hills-curveball-the-nastiest-pitching-gifs-from-this-weekends-games
There must be some mistake. How was this not a candidate?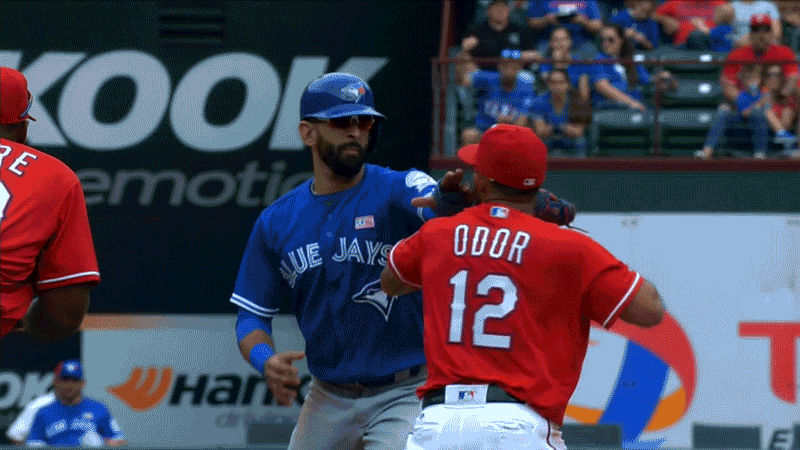 Since apparently Rougned Odor's right hook is not an option (maybe a write-in candidate?), I'll go for Trevor Bauer's curveball.
5. Stat of the Day
This one should be pretty self-explanatory. Should be a fun one though.
Punches Thrown/Landed
Rougned Odor 1/1, Jose Bautista 0/0
That's right, I'm delving into boxing stats.