Pop quiz: How many qualified pitchers have a higher K%-BB% differential than Jonathan Gray?
Just two: Clayton Kershaw and Noah Syndergaard. I don't know about you, but that seems like pretty good company to me. Now, it's not an entirely fair comparison, since Gray has only tossed 14.2 innings, and falls short of actually qualifying for that leaderboard. Regardless, it's rather eye-opening when considering the 24-year old rookie's fantasy potential.
K%-BB% has been
shown to be the best in-season predictor of ERA
. A cursory glance at the
2015 K%-BB% leaderboard
will tell you why; it's something of a who's who of pitching success. Why, then, does Gray's ERA sit at 7.98, more than
six full runs
higher than his xFIP (1.69)?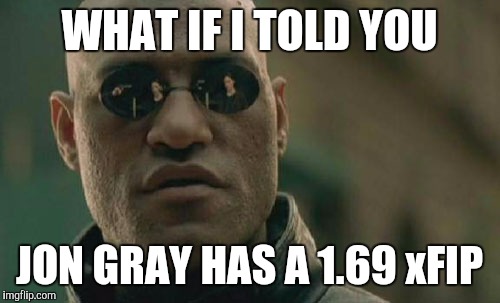 What's responsible for this enormous difference? First off, Gray holds a .474 BABIP. While we expect him to post a higher than average BABIP due to his home stadium, that's simply unsustainable. The average BABIP for all players at Coors Field from 2012-2015 was .336. Pitching half of jis games in Coors, we would expect a typical pitcher to post a BABIP of about .315. If Gray's BABIP was .315, his WHIP would fall from it's currently horrific 1.64 mark to an elite 0.96.
Another factor inflating his ERA is his 22.2% HR/FB ratio. Like his BABIP, that's unsustainably high, even for Coors. A normal pitcher pitching half his games at Coors would be expected to allow a 12.4% HR/FB. If that was Gray's HR/FB, his HR/9 would fall from 1.23 to 0.71. That would drop his FIP from an already solid 2.53 to an electric 1.83.
We've established that Gray has pitched MUCH better than his ERA. But will he continue to pitch
this
well? We should obviously expect his ERA to go down, but how far will it go down?
Gray is getting whiffs on 13.2% of his pitches, which would tie with Jose Fernandez for 10th in the league. Most of those whiffs have come on the slider, which owns a gaudy 25.8 SwStr%. His slider was always expected to be a good pitch, with both FanGraphs and Baseball America labeling it as a future plus pitch. It has excellent late bite and comes in at an average velocity of 85.5 mph.
In addition to the gaudy whiff rate, Gray's slider also features a plus groundball rate (57.1%). Gray has done an excellent job locating his slider to the glove-side corner at the knees (low and away to a right-handed hitter), as demonstrated in the heat map below:
Gray's fastball has not been as successful as his slider, posting merely average whiff rates. While average is, by definition, better than about 50% of big leaguers, it's quite disappointing for a pitch that averages 95.3 mph.
So here we have a slider that was expected to be plus that's performing as an elite pitch, and a fastball that was expected to be plus but getting average whiff and groundball rates. What's causing the slider to overperform and the slider to underperform?
The answer, I would suggest, is found in location, location, location. Whereas he's done an excellent job locating his slider (as demonstrated in the above heat map), his fastball location hasn't quite been on point:
That's a lot of pitches near the heart of the zone. You can clearly see what Gray is trying to do with his fastballs (arm-side corner; inside to a right-handed hitter), but he's just not getting them in enough, resulting in a lot of grooved pitches.. The fact that we can discern a plan, despite it's poor execution, in Gray's heat map is a positive sign; his fastballs are consistent in their location, he just needs to move that location a bit farther toward the corner.
Gray is primarily a two pitch pitcher (fastball and slider), though he occasionally mixes in a changeup. The changeup is, frankly, not very good. It doesn't move, and it's velocity differential is merely okay. Perhaps he could benefit from following the recent trend of young pitchers with questionable changeups (Nathan Eovaldi, Joe Ross, etc.) adding a splitter to their repertoire.
To give you a better feel for his repertoire, I ran pitch comps (a fun tool
invented by Jeff Sullivan
to find the most comparable pitches based on velocity and movement) for each of his fastball, slider and changeup.
The top five comps (among starters) for his fastball are pretty dang good: Stephen Strasburg, Jacob deGrom, Matt Harvey, Danny Salazar, Jose Fernandez. Impressed yet?
His slider comps are also impressive: Bud Norris, Zack Greinke, Sonny Gray, Anibal Sanchez, Ubaldo Jimenez. Not as impressive of a list of names, but very good sliders; Norris' slider (the top comp) owns an insane combination of a 27% whiff rate and 71.4% groundball rate.
His changeup comps are a bit of a let down, given the great comps his fastball and slider got: Mike Fiers, Jeremy Hellickson, Ryan Vogelsong, Braden Looper, Jon Niese. That's a pretty uninspiring list, but we already knew his changeup wasn't much to write home about.
To get an even better feel for his stuff, I recommend you watch the GIFs of his pitches on his pitcherlist.com
pitcherlist.com player page
. Note the late bite on the slider as well as the total lack of movement on the changeup.
Despite the mediocre changeup, Gray has managed to mostly avoid the platoon split problems that plague most fastball-slider pitchers. He does walk slightly more left-handed hitters than right-handed, and gets fewer groundballs, but his strikeouts remain in tact against either handedness.
What of the walk rate (6%)? It's lower than anything he posted in the minors. Is it sustainable?
First, I want to point out that it's not so far out of line with his minors numbers that it wouldn't fit perfectly within the normal development of a young pitcher for his walk rate to improve like it has. Nevertheless, let's take a look at what's driving the walk rate:
Although his first pitch strike% is below average, his Zone% and Swing% help keep the walks down. We should probably expect a slight regression in walk rate, but there's nothing to suggest we should expect a substantial spike.
Tread carefully; Colorado is the least forgiving pitching environment in baseball, but I'd venture to say Gray has the skills to beat the odds and become a must-own SP in Coors.
Gray will toe the rubber at AT&T park in San Francisco on Saturday, squaring off against Johnny Cueto.
Follow Pitching Breakdowns on Twitter! (@PitchBreakdowns